The annual Mount Dora Fall Craft Fair is a highly sought after event for Craft exhibitors, artists and businesses alike to participate in. This event was ranked the #4 Classic/Contemporary Craft Festival in America in 2019, #2 in 2020 and #1 All-Time Favorite event in 2021 by Sunshine Artist magazine.* It draws more than 100,000 visitors each year with tour buses dropping of guests from all corners of the state eager to browse and buy from almost 400 exhibitors selected to participate each year.  
CAN I participate in the Mount Dora Craft Fair?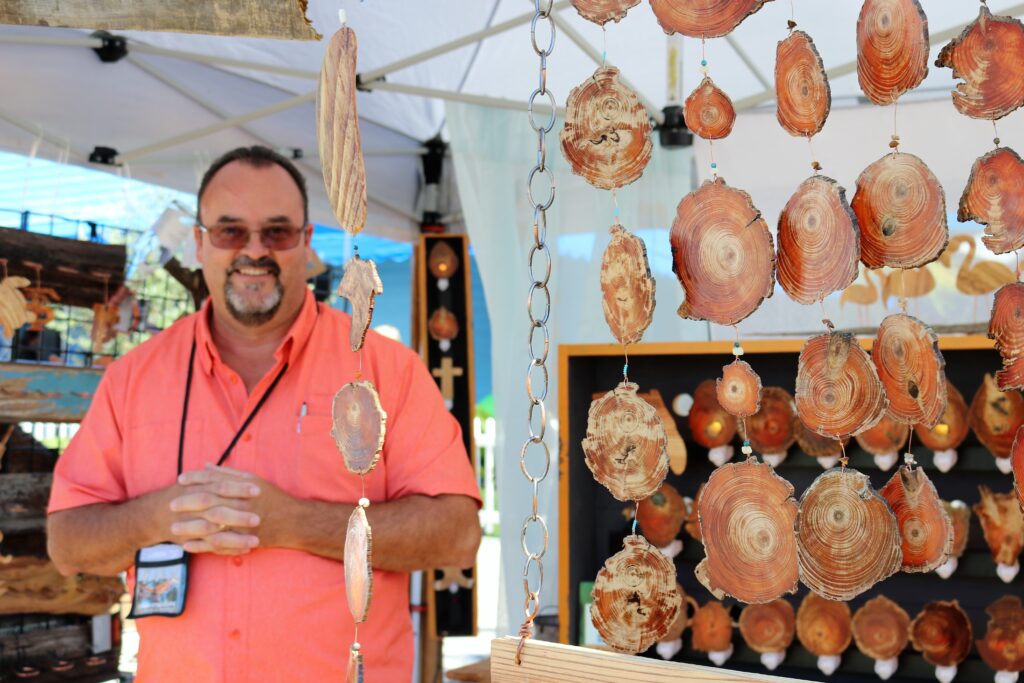 39th Mount Dora Craft Fair   October 28 & 29, 2023 9am-5pm
Held on the streets of historic downtown Mount Dora, FL.  230 W. 4th Ave Mount Dora, FL 32757
Ranked #4 in 2019 and #2 in 2020 and 2022 by Sunshine Artist Magazine in their annual ranking of the Best Classic/Contemporary Craft Festivals in America, the Mount Dora Craft Fair was awarded title of ALL TIME FAVORITE #1 in their special 50th Edition published in 2021. 
The downtown streets come alive with almost 400 of the best exhibitors in the country ready to show and sell their fine and fun crafts at the annual event. Festival food, music, beer and wine tasting for adults and a free kid zone for the kids will round out the event. Entertainers/Buskers may apply for approval at no charge.  
DEADLINE to apply is June 1, 2023. 
Read the FAQ about requirements before applying.
VENDOR INFO: You MUST be the creator of the items in your booth. Retail, Buy-Sell vendors are NOT permitted. Food Vendors do not apply here. Contact San Francisco Puffs & Stuff
HOW exhibitors are chosen: This is a quasi-juried event. Time of application has no bearing on acceptance. On the deadline date, applications are closed, and all files are categorized, reviewed and scored. The highest scoring exhibitors in each category are invited to participate. Everyone else in that category is placed on the wait list. 
The more UNIQUE your product is, the better chance you have of being accepted into this event.
2023 Fees:
There is no upfront application fee to apply. Application is NOT a guarantee of participation. 
Booth Fee includes a non refundable application fee and tax will be added to your final balance after upgrades are added. Booth fees are not payable until/unless your file has been Approved and you have been notified by email.
Payment is a commitment to participate and booth fees are non-refundable. Application is NOT a guarantee of participation.
Base Fee:
$375 single/$675 double for hand craft exhibitors and artists representing their OWN work. Cottage food industry vendors selling packaged goods to go may apply at this level.
Add on fees:
Premium location requests on 4th Ave or Donnelly St +$50 . Requests are not guaranteed.
"Corner" (L or R open) means there is no booth directly next to you. It can be a planter, a  walkway, a tree, etc. Corners are based on availability. Requests are not guaranteed. +$100
Electric +$100
Business/Lead generating/Branding community partners $1500 on Baker St/$2500 prime location/ Corner or 10×20 space $5000
$10,000 Event sponsor 10 x 10 space, radio, TV, posters & social media mentions
Food Vendors: Contact San Francisco Puffs & Stuff
DEADLINE to apply is June 1, 2023.   If you apply after June 1 you will be automatically placed on the Wait List and notified by email if space becomes available up to the weekend of the event. 
TERMS & CONDITIONS
An accepted application payment is a commitment to participate in the event and to follow all rules here.
Rules
Artist must exhibit and be present during complete show from the first day Saturday at 9:00 a.m. through the second day Sunday at 5:00 p.m. No early breakdowns!
All work must be original.  Artist shall only exhibit works typified by their submitted images. Only the works of the accepted artist may be sold or displayed unless reviewed and approved by the event committee.
Each artist is responsible for collecting and reporting their own sales tax at the event.
Exhibit Space measures 10'x10'.  Work must be contained within the assigned space. You provide your own tent, table and chairs.
Tents must be weighted to sustain up to 40MPH gusts and substantial rain.  Stakes are not allowed. Tents must be white.
Vehicles will NOT be permitted in the event area after 8:30 a.m. on Saturday and Sunday mornings.
Pets are allowed but discouraged. Some guests are intimidated by dogs and the crowds and noise may cause your pet to be uncomfortable.
Generators are not allowed.
Site security is provided but we cannot guarantee against theft or damage of items at the event. Insurance is not required but recommended.
CANCELLATION POLICY: The event is RAIN OR SHINE. NO Refunds will be made for cancellations by the exhibitor within 30days of the event or for removal during the event due to violation of rules. Refunds will only be issued to requests in writing if outside of the 30 day refund request period.
Penalties for failure to abide by these terms & conditions include immediate removal of any items in violation of these terms & conditions, possible ejection from this year's event   and suspension from exhibiting in future fairs.
RELEASE AGREEMENT
I do hereby release and hold harmless Visit Mount Dora, Inc. and the City of Mount Dora
of and from any and all manner of actions, suits, damages whatsoever arising from any loss or damage to my property or anyone's properties in my possession or supervision.  I also warrant that the work submitted for jurying and the work to be exhibited are the same and were produced solely by me unless specified in my application and approved.  A completed application is a commitment to show.  No refunds will be made for cancellation within 30 days of the event.  The Event Committee reserves the right to make final interpretations of all rules, terms & conditions.
Frequently Asked Questions
HOW are exhibitors selected to participate in this event?
Applications are accepted each year until June 1. Once the system is closed, all applicants are categorized and scored on Quality, Originality and Booth presentation. The highest scoring applicants in each category are invited to participate until all spaces are filled and then everyone else gets placed on a Wait List.
WHEN are applicants notified?
All applicants are emailed notification of their status in early July. If you are on the WAIT LIST you can be moved to ACCEPTED at any time up to the weekend of the event.
WHO qualifies to be in the Mount Dora Fall Craft Fair?
Crafters and Artists who hand create their own original product and represent themselves at the event are encouraged to apply for consideration.
What about Art Transfer, Prints, Music CDs, Books?
If you are the artist with rights to the Original art, music or literature and YOU are at the show representing yourself, you are invited to apply for consideration.
Are FOOD products allowed to be exhibited in the show?
If you are the original creator of the food or recipe (sauces, spices, dips etc) and it is packaged to be sold to go then you are a Food Crafter and are invited to apply. FOOD VENDORS selling items cooked on site will not be accepted through the application system. If you are a FOOD VENDOR and make application, you will be rejected and your application fee is not refundable.
What if I COLLABORATE with my family or a team to create unique items?
Exceptional or unusual items that are made in a family business or as a collaborative team effort may apply for consideration to participate. Full disclosure about the process and people involved must be in the comments with photos as proof of the process.
What if I sell hand crafted items that are NOT MADE BY ME?
You can NOT participate at this event. This includes Fair Trade vendors, churches and charity groups.
What if I have some of my product MASS PRODUCED in a factory?
Only Inventors that hold a patent and all rights to the exceptional, unique design of a product can apply for consideration to participate. The inventor must be present at the event. Clothing, bags, jewelry and other items designed by the applicant and then mass produced in a factory are not eligible to participate.
Are booths AUDITED during the event?
YES. If you are found to have items not Approved at your booth or you display items not consistent with your photos and description on your application, you may be asked to remove them. Noncompliance will result in you being asked to leave immediately and your booth fees is Non Refundable.
What if I am a COMPANY REP, Buy Sell or a Distributor and would like to participate? You can apply as a "Company Branding/Sponsor" for consideration to participate
How do you select JEWELERS?
Jewelers are separated into distinct categories (ie fine fabricated, found objects, beadwork, organic material & mixed metals are just some different examples) The highest scoring jewelers in each category are accepted and others are placed on the Wait List.
What is the COST to be in the show?
The base booth price is $350+tax for the 2 day event. ($625+tax for a dbl booth) There is an upfront nonrefundable jury/application fee of $25. Your final booth fee will be due if and when you are accepted into the show.
Premium Space Fees
Fees are added to the base booth fee when applicable from $25 for high demand locations up to $100 for Corners. If you are assigned a Premium Space and would like to opt out, we will move you and your fee will be adjusted.
Can I choose my BOOTH LOCATION?
You can indicate any space or area preferences on your application. Prior year exhibitors who are successfully juried in have first rights to reclaim their space. We will try to accommodate your requests as best we can but requests are NOT guarantees of placement.
Is ELECTRIC available at the show?
Yes, you must request it in advance to have your booth placed near an outlet. The cost is $75.
What are the event HOURS?
Exhibitors should be OPEN Sat 9am-5pm and Sun 9am-5pm. Exhibitors who pack up early may be denied participation in future Mount Dora events!
Is there a standard TENT that is required?
All tents must be 10×10 and white. Be sure your tent is SECURE with weights to sustain 40mph gusts of wind. Your tent could damage other exhibitor's property and you may be asked to leave if your tent is not secured.
Can I have an AWNING protrude off the front of my tent?
Awnings are only allowed in certain areas of the event per fire dept code. If your tent has an awning, make the remark in the comment section so that you can be placed in an appropriate area.
What if I need to RENT a tent, tables or chairs?
You can pick up or have Grand Rental deliver and set up any of these items as well as tablecloths and other items. Call (352)357-9242
What happens if it RAINS?
The event goes on Rain or Shine. There is never a Rain date. Be sure your tent is SECURE with weights to sustain 40mph gusts of wind.
Is there assigned PARKING for exhibitors?
We will assign you a parking area.  Although the pass is good for the weekend, we do not have the man power to monitor every lot to regulate pre assigned spaces so Sat and Sun parking is based on an "honor system". Please place your pass showing your parking lot on your dashboard. Those without assigned lots can find parking outside the event area or ask a volunteer where the overflow parking is located.
Are there HANDICAP facilities?
Yes, if you indicate that you have special needs on your application, you will be placed as close as possible to parking and H/C restrooms.
What is DOLLY IN?
Dolly in means you arrive in your assigned lot before 4:30 p.m. You may start carrying your items to your booth space from your lot and at approximately 5 p.m. you may begin your set up at your booth. Tip* Do this to avoid the car traffic line at the set up time/entry points.
What if I CAN NOT CARRY all my stuff from my car to my booth space?
Exhibitors who need to unload their cars directly at their booth space must wait in line in their vehicle outside the event area until their assigned Set Up Time. When you get to your space, you must UNLOAD completely, PARK your car and then return on foot to SET UP
What if I have a TRAILER in tow or OVERSIZED vehicle to park?
Please indicate this to us on your application or in an email and we will suggest areas that will accommodate your needs. Some parking areas may be too small to turn around in if pulling a trailer.
What if I need EXTRA TIME or SPACE (Vehicles with tongues or pulling extra long trailers) for my SET UP?
Please let us know in advance so that we can assign you the latest (7:15PM) Set Up Time. This is a courtesy to other exhibitors trying to Set Up next to you and others trying to pass by.
Can I SET UP on SATURDAY morning?
Yes. Saturday set up time starts at 6AM. All vehicles must be out of the event area by 8:15AM. Please let us know that you plan to set up on Sat so that we can anticipate traffic control needs.
Is there a CHECK IN place and do I NEED to check in?
Check-In is located at First United Methodist Church at 439 E. 5th Ave, Mount
You do NOT need to check in if you understand where your booth space is, entry point and entry time. Someone will be available at Check-In to assist exhibitors who forget their information on FRIDAY 2PM-6PM and SAT 6AM- 8AM. If you arrive outside of those times, call (352)217-8390 for instructions.
Are PETS ALLOWED?
Yes. Well behaved pets are allowed but you are encouraged to leave your pet at home. Please be considerate to your pet as well as others. The event can get very crowded; pets can easily get underfoot and some people are intimidated by dogs.
What if I am travelling in an RV or CAMPER?
We do not provide areas to accommodate RVs and Campers. Some prior exhibitors have used Renningers (352)978-0642 on Hwy 441. Mt Dora or Southernaire Mobile Home Park (352)383-2848 at 1700 Sanford Rd. Mt Dora.
What is there TO DO in Mount Dora?
You can find plenty of information and things to do at www.GoMountDora.com
IF YOU HAVE ANY ADDITIONAL QUESTIONS. Please call Janet Gamache, Event Coordinator at (352)217-8390
*Sunshine Artist Magazine