Set up instructions are always emailed to exhibitors a week prior to the event.
If you did not receive the email with a link to generate your pass within one week before the event, please read the information below, print the pass on this page and fill it in with your details found on the 2023 Exhibitor List. You must have a paper pass to display in/on your vehicle or it is subject to being towed during the event.
If you can not print a pass, go to CHECK IN at 138 E. 5th Ave Fri 2-6PM or Sat 6-8AM. You will need to park at Truist Bank at Tremain St and walk to check in.
Hello Mount Dora Craft Fair Exhibitors,
We are just a short time away from load-in of the Mount Dora Fall Craft Fair 2023!
Please become familiar with the  TRAFFIC FLOW Map. ALL traffic will enter through Donnelly St at Charles Ave and flow north out of the event area. You will turn at your Entry point animal to get to your booth if you are not on Donnelly St.
You Do NOT need to go to "Check in"  if you bring your printed PASS with you.
You must have your pass to enter the event area.  If you forget or need a pass printed, you can get one at Mount Dora Center for The Arts 138 E 5th Ave, Mt Dora, FL on Friday 2-6pm or Sat 6-8 am.
Your PASS must be clearly displayed on your vehicle dashboard or affixed to your trailer when parked.  ONLY ONE Pass is allowed per booth space. Vehicles and trailers without passes are subject to being towed! Be respectful and only park in your assigned lot.
Friday Set Up *HELPFUL TIP- * If you can Dolly-in (walk your items) from your assigned parking lot on Friday, you can avoid the vehicle traffic during the Load-in times.  You must be in your assigned parking lot before 4:30 pm or you will need to wait until the time listed on your Exhibitor/Parking Pass and enter with the other vehicles.
Here are 10 more IMPORTANT TIPS!
1. ANYONE can "DOLLY" in if you are parked in your assigned parking lot on Friday before 4:15 pm.  
If you determine the lot is too far when you arrive, proceed to your assigned ENTRY POINT at your Assigned Time with your vehicle.  
 If you choose Dolly -In, you will be allowed to walk your items to your booth space. Keep all items OFF the road against the curb. Once the Police give us the "All Clear" you will be allowed to start set up at approx. 5:00 pm.  Do NOT start your set up before the all-clear is given or you will be asked to tear it down. If you get to your assigned lot and determine it is too far to dolly, simply leave the event area and enter at your Entry Point with your vehicle at your assigned Set Up time.
2. EVERYONE can drive in Sat & Sun to drop via their assigned Entry Point between 6:30- 8:00 am.  You do not need to Dolly on Sat & Sun. Please have your vehicles out of the event area by 8:15 am Sat and Sun.
3. Although everyone is assigned a parking lot, we do not have the staff to monitor lots Sat & Sun. Please be courteous and do Not Park in a lot that is not assigned to you. Place your pass on your dash or attach it to your trailer or you may be subject to towing.
 4. If your booth location starts with "B", you are on Baker St, and you can unload items at your booth space at 4PM and you will stage in front of your booth number. You can not set up until we get the All Clear. 
5. DO NOT turn around or backup once inside the event area. If you miss your space, continue out of the event area and enter through your entry point again. Your assigned Parking area may be in a place that seems logical to back up or get to by going in the wrong direction on your map. DO NOT go against the traffic flow. Be calm and follow the path out and around the event area to come back in to get to your parking area.
6. Do not set up while your vehicle is in the event area if at all possible. Streets are tight. Please unload your items to the curbside, go park your vehicle in your assigned lot and return to finish setting up.  If you need to unload and set up at the same time, be courteous and arrive after 7pm when traffic is clear.
7. Your booth number goes in the CENTER of the back of your booth!  Even one booth in the wrong place will disrupt the row of booths and you will be asked to move it if you are off center.
8.  Bring proper weights to secure your tent for up to 40 mph gusts. Staking of tents is NOT allowed anywhere in the event but your tent must be secure with blocks, sand bags or other weights.
  9. First time exhibitors may not know that Mount Dora is a "HILLY" town. Many of you will experience an incline in your area.  If your booth space is between 200-263 (3rd Ave), we recommend that you bring short wood boards or blocks to level your tent or table in case you feel you need to be more level.
10. If you have any questions or concerns before or during the event, you can always text or call me at  (352) 217-8390
 I wish you all the best show ever!…. unless you break down early on Sunday. If you break down before 5PM on Sunday, I wish you nothing. I will kill you.
Sincerely,  Janet Gamache (352)217-8390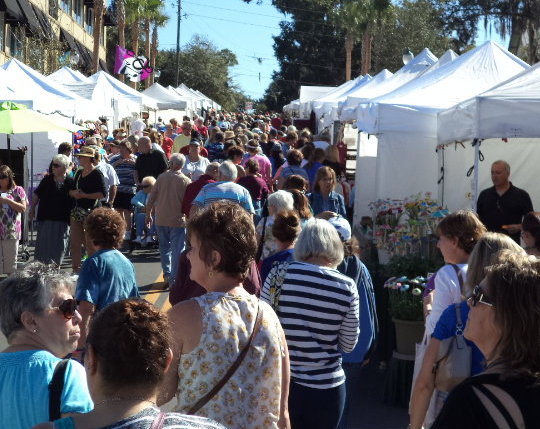 Photo showing 3rd Ave incline
NOTE: The map below is the NEW vendor Traffic map that has a different traffic flow than previous years. 
EVERYONE enters on Donnelly St at Charles Ave this year.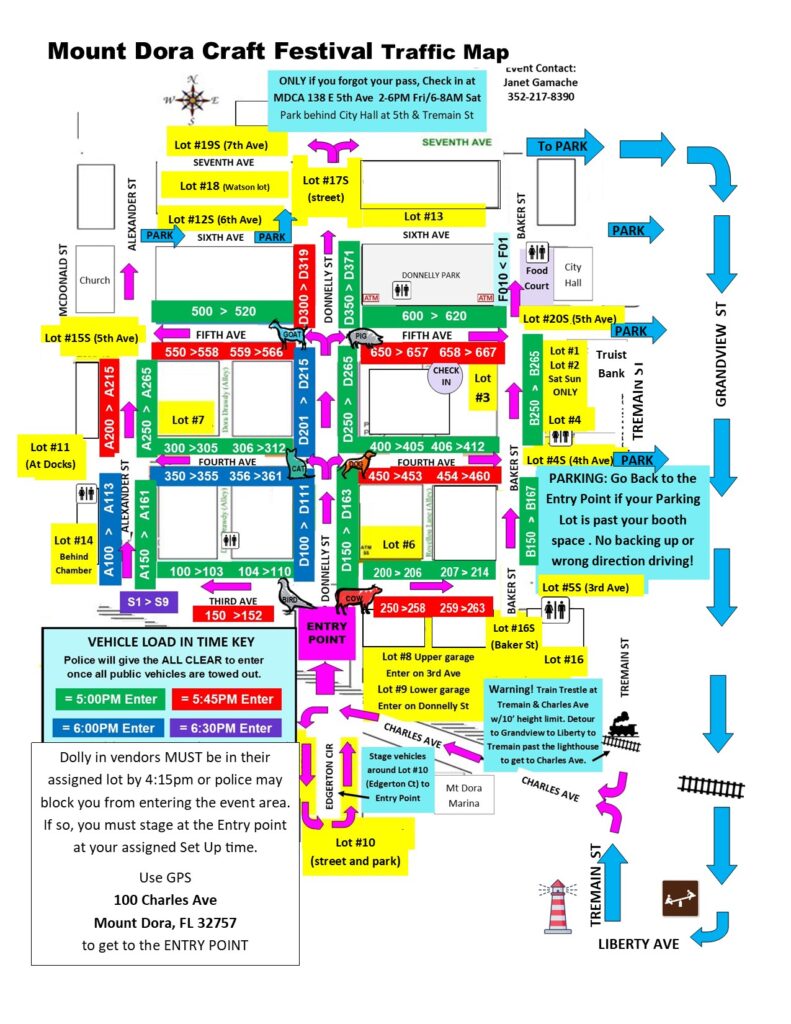 If you did not receive the email with a link to generate your pass, please print this pass and fill it in. You must have a paper pass to display in/on your vehicle or it is subject to being towed during the event.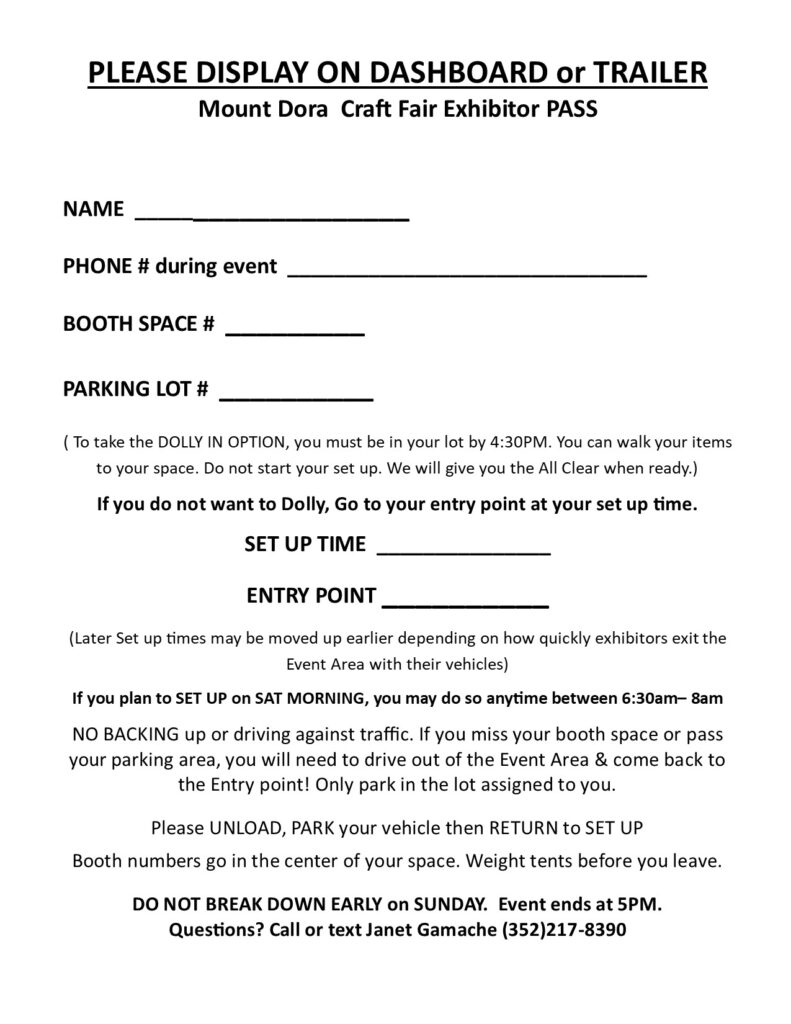 2023 Mount Dora Craft Fair Exhibitors
 
 
 
LAST
FIRST
SPACE
ENTRY
TIME
PARK
Abel
Joyce
304
CAT
5:00PM
7
Adams
Karen
456
DOG
5:45PM
4
Adams
Laura
D156
DONNELLY
5:00PM
10
 
 
 
 
 
 
Aguila
Harmony
410
DOG
5:00PM
8
Aksamitov
Tess
D204
DONNELLY
6:00PM
6
Aksamitov
Tess
D205
DONNELLY
6:00PM
6
 
 
 
 
 
 
Alfonso
Jesse
D110
DONNELLY
6:00PM
10
Alfonso
Jesse
D111
DONNELLY
6:00PM
10
Alpaslan
Sibel
B153
COW
3:30PM
4A
Anchorena
Enrique
B254
DOG
3:30PM
2
Apsley
Aaron
300
CAT
5:00PM
7
Banks
Cheryl
B167
COW
3:30PM
4A
Barbour
Gissell William
D312
DONNELLY
5:45PM
19
Barrenechea
Richard
D263
DONNELLY
5:00PM
9
Bates
Patrick
D368
DONNELLY
5:00PM
12
Bates
Patrick
D369
DONNELLY
5:00PM
12
Bauman
Phil
B163
COW
3:30PM
2
Beote
Laura
651
PIG
5:45PM
3
Bishop
Carmen
A203
CAT
5:45PM
7
Blucher
Dee
A105
BIRD
6:00PM
14
Bonnigson
June
301
CAT
5:00PM
7
Bowman
Jenny
D264
DONNELLY
5:00PM
8
Boyce
Robert
D304
DONNELLY
5:45PM
13
Bradford
DeWaina
609
PIG
5:00PM
1
Bradshaw
Dalene
B251
DOG
3:30PM
4
Braham
Debbie
D366
DONNELLY
5:00PM
13
Brass
Drew 
D306
DONNELLY
5:45PM
18
Brass
Drew 
D307
DONNELLY
5:45PM
18
Brisbin
Susan
D201
DONNELLY
6:00PM
9
Brown
Tracie
109
BIRD
5:00PM
9
Bundesen
Charise
D363
DONNELLY
5:00PM
17
Burford
Scott
B261
DOG
6:00PM
4
Cardona
Steve
A259
CAT
5:00PM
15
Carinni
Dianne
620
PIG
5:00PM
20
Carter
Tim
A256
CAT
5:00PM
7
Casesi
Rose
A153
BIRD
5:00PM
9
Cease
Heather
260
COW
5:45PM
8
Chang
Yian
460
DOG
5:45PM
8
Chapman
Mary
B165
COW
3:30PM
4A
Chiodi
Rebecca
452
DOG
5:45PM
8
Civitarese
Kelly
D360
DONNELLY
5:00PM
12
Clark
Gail
A108
BIRD
6:00PM
14
Clarke
Caroline
D355
DONNELLY
5:00PM
13
Coburn
John
D362
DONNELLY
5:00PM
13
Codys
VMD
404
DOG
5:00PM
 
Cofini
Jennifer
455
DOG
5:45PM
8
Cohen
Steven
D155
DONNELLY
5:00PM
6
Colton
David
615
PIG
5:00PM
1
Conner
Kate
D353
DONNELLY
5:00PM
 
Cook
Jim Jo
Sun Park
 
 
14
Copeland
Laurie
D260
DONNELLY
5:00PM
18
Copher
Everett
S7
BIRD
6:15PM
9
Cornell
Michael
D365
DONNELLY
5:00PM
13
Cosner
Terri
A204
CAT
5:45PM
7
Coy
Kim
D103
DONNELLY
6:00PM
10
Cross
Paul Jennifer
666
PIG
5:45PM
20
Culberson
Karen
A254
CAT
5:00PM
15
Dabrowski
Mike 
A103
BIRD
6:00PM
8
Damiano
Diana Ted
353
CAT
6:00PM
7A
Darcy
Donald
D300
DONNELLY
5:45PM
18
Davis
Elliot
D262
DONNELLY
5:00PM
17
Decker
Tom
302
CAT
5:00PM
7
Dedo
Diane
200
COW
5:00PM
8
Delgado
Amaryllis
S5
BIRD
6:15PM
9
Derrick
Shawn
S4
BIRD
6:15PM
9
Dixon
Marlene
201
COW
5:00PM
8
Dolk
Karen
B263
DOG
6:00PM
4
Downs
Sarah
255
COW
5:45PM
8
Elder
Scott
202
COW
5:00PM
8
Elias
Donna
555
GOAT
5:45PM
15
Elias
Donna
556
GOAT
5:45PM
15
Emery
Cheyene
A159
BIRD
5:00PM
7A
Erickson
Lucille Tony
B166
COW
3:30PM
4A
Ernst
Nancy
518
GOAT
5:00PM
13
Erskine
Dan Mary
B258
DOG
6:00PM
2
Erskine
Dan Mary
B259
DOG
6:00PM
2
Etters
Karen
453
DOG
5:45PM
4
Ferry
Chrysti
A201
CAT
5:45PM
7
Fetcinko Walsh
Nancy
661
PIG
5:45PM
3
Fetcinko Walsh
Nancy
662
PIG
5:45PM
3
Fisher
Diane
358
CAT
6:00PM
7
Fisher
Michelle
361
CAT
6:00PM
8
Fitzgerald
Denise
503
GOAT
5:00PM
15
Fleckenstein
Anna
A215
CAT
5:45PM
17
Flesner
Gary
653
PIG
5:45PM
10
Foxson
Alyssa
B160
COW
3:30PM
10
Fraser
Lucy
S1
BIRD
6:15PM
9
Gaines
June
D107
DONNELLY
6:00PM
9
Gamenthaler
Jennifer
B159
COW
3:30PM
5A
Garray
Mona
407
DOG
5:00PM
8
Gerez
Oriana
400
DOG
5:00PM
4
Gerez
Oriana
401
DOG
5:00PM
4
Gerstorff
Joshua
506
GOAT
5:00PM
18
Glapinski
Tina
B162
COW
3:30PM
4A
Gloekler
Robert
510
GOAT
5:00PM
15
Gloekler
Robert
511
GOAT
5:00PM
15
Glover
Anita
261
COW
5:45PM
8
Gonzalez
Matthew
560
GOAT
5:45PM
18
Gorski
Michael
100
BIRD
5:00PM
10
Gorski
Michael
101
BIRD
5:00PM
10
Gould
Erin
502
GOAT
5:00PM
17
Grammen
Kara
508
GOAT
5:00PM
15
Green
Kim
A150
BIRD
5:00PM
10
Greenwood
Ashleigh
S5
BIRD
6:15PM
9
Groves
Magali 
D309
DONNELLY
5:45PM
13
Haberfelde
Candice
A257
CAT
5:00PM
7
Haddad
Assef
150
BIRD
5:45PM
8
Haynes
Vicki
B150
COW
3:30PM
16A
Haynes
Vicki
B151
COW
3:30PM
16A
Hendrix
Ed
305
CAT
5:00PM
7
Herman
Rachel
656
PIG
5:45PM
3
Hernandez
George
562
GOAT
5:45PM
10
Herrmann
Dory
B260
DOG
6:00PM
2
Hester
Sherrye
D105
DONNELLY
6:00PM
6
Hester
Terri
D106
DONNELLY
6:00PM
6
Hetzel
Robert
667
PIG
5:45PM
20
Hill
Nancy
B157
COW
3:30PM
5A
Hill
Nancy
B158
COW
3:30PM
5A
Holmbeck
Peter
D157
DONNELLY
5:00PM
8
Holzman
Jeannine
406
DOG
5:00PM
4
Hooper
Ingrid
D316
DONNELLY
5:45PM
18
Houchin
Denise
500
GOAT
5:00PM
18
Hughes
Sondra
611
PIG
5:00PM
1
Husser
Ed
A260
CAT
5:00PM
19
Husser
Heidi
A261
CAT
5:00PM
7
Hyde
Gretchen
102
BIRD
5:00PM
9
Iannone
Ron
A157
BIRD
5:00PM
7A
Iannone
Ron
A158
BIRD
5:00PM
0
Iatchkov
Evgueni
104
BIRD
5:00PM
10
Iatchkov
Evgueni
105
BIRD
5:00PM
10
Iceberg
Marc
D265
DONNELLY
5:00PM
10
Ivanov
Vasil
513
GOAT
5:00PM
15
Jalsa
Ann
D261
DONNELLY
5:00PM
19
James
Chris
207
COW
5:00PM
8
Jamison
Leah 
520
GOAT
5:00PM
18
Javar
Rudy
558
GOAT
5:45PM
10
Jenney
Sandra
A100
BIRD
6:00PM
10
Johnson
Lisa
351
CAT
6:00PM
7
Johnson
Joshua
505
GOAT
5:00PM
18
Jones
Brad
S8
BIRD
6:15PM
9
Karman
Sindi
519
GOAT
5:00PM
15
Ke
Yun
S3
BIRD
6:15PM
10
Kersey
Christina
A107
BIRD
6:00PM
8
Kershner
Sandy
504
GOAT
5:00PM
15
Knecht
Genie
D259
DONNELLY
5:00PM
17
Koehler
Beth
450
DOG
5:45PM
8
Lake
Kate
550
GOAT
5:45PM
12
Lakiotis
Peter
554
GOAT
5:45PM
1
Lalumiere
Cathryn
D101
DONNELLY
6:00PM
6
Lane
Ruth
B156
COW
3:30PM
4A
Lange
Barbara
D256
DONNELLY
5:00PM
6
Larrier
Carlton
256
COW
5:45PM
8
Larson
Laurie
665
PIG
5:45PM
3
Latil
Yria
D310
DONNELLY
5:45PM
13
Lee
CC
D308
DONNELLY
5:45PM
19
Leising
Alan
103
BIRD
5:00PM
8
Lemke
Stephanie
605
PIG
5:00PM
3
Leon
Jeff
359
CAT
6:00PM
8
Leonard
Sheree
A102
BIRD
6:00PM
8
Levine
Tom
106
BIRD
5:00PM
9
Lewis
Joe Charlene
652
PIG
5:45PM
3
Linn
Robert 
D211
DONNELLY
6:00PM
9
Lorenzo
Melissa
206
COW
5:00PM
8
Luczynski
Paul
B252
DOG
3:30PM
4
Luczynski
Paul
B253
DOG
3:30PM
4
Lyon
Jane
A106
BIRD
6:00PM
14
MacGregor
Kristie
D251
DONNELLY
5:00PM
17
MacGregor
Kristie
D252
DONNELLY
5:00PM
17
Maibach
Susan
D102
DONNELLY
6:00PM
9
Mancuso
JoAnn
D358
DONNELLY
5:00PM
13
Mancuso
JoAnn
D359
DONNELLY
5:00PM
13
Manninen
Kaisa
311
CAT
5:00PM
18
Manning
Rhonda
D303
DONNELLY
5:45PM
10
Mannix Jr
Mike
612
PIG
5:00PM
1
Manosalva
Edgardo
D150
DONNELLY
5:00PM
10
Manosalva
Edgardo
D151
DONNELLY
5:00PM
10
Marganon
Ricardo
A202
CAT
5:45PM
7
Marinel
Mary
A265
CAT
5:00PM
18
Marino
Scott
D108
DONNELLY
6:00PM
6
Marino
Scott
D109
DONNELLY
6:00PM
6
Marino
Richard
D361
DONNELLY
5:00PM
13
Martin Wildgoose 
Tiffany
A262
CAT
5:00PM
7
Martinez
Jennifer
561
GOAT
5:45PM
17
Matwijow Nosal
Jennifer
411
DOG
5:00PM
4
Mazzocchi
Anne
355
CAT
6:00PM
7
McCory
Trish
A154
BIRD
5:00PM
9
McCostlin
Jeanne
408
DOG
5:00PM
10
McCostlin
Jeanne
409
DOG
5:00PM
10
McMullen
William
D152
DONNELLY
5:00PM
6
McMullen
William
D153
DONNELLY
5:00PM
6
Messer
Philip
D302
DONNELLY
5:45PM
13
Meyer
Luliana
D257
DONNELLY
5:00PM
19
Micenec
Dee
110
BIRD
5:00PM
6
Michals
Zekia
350
CAT
6:00PM
7
Miles
John
307
CAT
5:00PM
18
Miles
John
308
CAT
5:00PM
18
Miller
Leonard
657
PIG
5:45PM
10
Miller
Jim
S6
BIRD
6:15PM
10
Moore
Ashley
356
CAT
6:00PM
7A
Moore
Ashley
357
CAT
6:00PM
7A
Moore
Camille
S2
BIRD
6:15PM
9
Moralez
Archangel
403
DOG
5:00PM
9
More
Rich
A214
CAT
5:45PM
18
Moyer
Karen
210
COW
5:00PM
8
Murfitt
Peter
A101
BIRD
6:00PM
14
Nagy
Heather
D367
DONNELLY
5:00PM
13
Namewicha
Sawai
A207
CAT
5:45PM
7
Newton McDeed
Tricia
D356
DONNELLY
5:00PM
13
Nilson
Robert
D206
DONNELLY
6:00PM
9
Norman
Rebecca
A156
BIRD
5:00PM
7A
Oliva
Sandy
A251
CAT
5:00PM
7
Olson
Annette
A212
CAT
5:45PM
15
Omalley
Amy
517
GOAT
5:00PM
15
Orser
Georgia
262
COW
5:45PM
16A
Orser
Georgia
263
COW
5:45PM
16A
Pace
Migdalia
A205
CAT
5:45PM
9
Papillio
VMD
D210
DONNELLY
6:00PM
 
Parsons
Chris
454
DOG
5:45PM
8
Patterson
Mike
405
DOG
5:00PM
10
Pearce
Xiubo
D258
DONNELLY
5:00PM
19
Petraszewsky
Craig
B152
COW
3:30PM
4A
Petty
Cindy
250
COW
5:45PM
10
Petty
Cindy
251
COW
5:45PM
10
Phelan
Ilene
A111
BIRD
6:00PM
9
Phelan
Kim
A112
BIRD
6:00PM
9
Pierce
Liz
412
DOG
5:00PM
4
Pigue
Danielle
663
PIG
5:45PM
3
Pigue
Danielle
664
PIG
5:45PM
3
Pitts
Katherine
208
COW
5:00PM
5A
Pitts
Katherine
209
COW
5:00PM
5A
Pizzini
Gerri
D202
DONNELLY
6:00PM
10
Pizzini
Gerri
D203
DONNELLY
6:00PM
10
Pollock
Dan Janis
658
PIG
5:45PM
3
Prince
Tiffany
507
GOAT
5:00PM
17
Qualls
Victoria
606
PIG
5:00PM
3
Quinlan
Valerie
309
CAT
5:00PM
7
Quinlan
Valerie
310
CAT
5:00PM
7
Radloff
Mary Ellen
559
GOAT
5:45PM
17
Ramos
Edalys
152
BIRD
5:45PM
8
Ramsden
Judy
303
CAT
5:00PM
7
Raya
John
512
GOAT
5:00PM
15
Rebeck
Robin
B250
DOG
3:30PM
4A
Reid
Sheila 
D364
DONNELLY
5:00PM
13
Reusser
Jack
D311
DONNELLY
5:45PM
13
Richards
Dell
D215
DONNELLY
6:00PM
17
Riles
Lori
D301
DONNELLY
5:45PM
13
Rinzel 
Stephanie
D370
DONNELLY
5:00PM
13
Rinzel 
Stephanie
D371
DONNELLY
5:00PM
13
Rocco
Rick
D162
DONNELLY
5:00PM
10
Rocco
Rick
D163
DONNELLY
5:00PM
10
Ross
Thomas Miguela
258
COW
5:45PM
8
Ross
Teresa
A208
CAT
5:45PM
7
Rous
Melissa
654
PIG
5:45PM
1
Ruby
Donna
257
COW
5:45PM
8
Rummel
Jon
402
DOG
5:00PM
10
Rupersburg
Dawn
107
BIRD
5:00PM
9
Salyer
Diana
A252
CAT
5:00PM
7
Saraiva
Nikki
A151
BIRD
5:00PM
9
Scanlon
Jeanne
204
COW
5:00PM
8
Scheffel
Bud
D100
DONNELLY
6:00PM
10
Schmidt
Alison Russ
D313
DONNELLY
5:45PM
10
Schmidt
Alison Russ
D314
DONNELLY
5:45PM
10
Schumann
Lori
354
CAT
6:00PM
7
Schwemin
Traci
A263
CAT
5:00PM
15
Seyler
Marty
D158
DONNELLY
5:00PM
9
Seyler
Marty
D159
DONNELLY
5:00PM
6
Shellhammer
James
B154
COW
3:30PM
8
Siebel
Tina
514
GOAT
5:00PM
15
Siegel
Nancy
D161
DONNELLY
5:00PM
6
Simmons
Melodie
259
COW
5:45PM
8
Slate
Joyce 
306
CAT
5:00PM
7
Smith
John Laurie
566
GOAT
5:45PM
20
Smith
Scott
D357
DONNELLY
5:00PM
13
Snyder
Norman
564
GOAT
5:45PM
20
Snyder
Norman
565
GOAT
5:45PM
20
Sollecito
Greg
252
COW
5:45PM
16A
Sostre Carmona
Marie Ed
108
BIRD
5:00PM
9
Souchek
Dusana
D250
DONNELLY
5:00PM
17
Spackman
Jami
B155
COW
3:30PM
16A
Spellman
Maureen
A209
CAT
5:45PM
18
Sponsor-Careplus
COX
616 617
PIG
5:00PM
1
Sponsor-Disney
COX
D352
DONNELLY
5:00PM
13
 
 
 
 
 
 
Sponsor-Renewal
COX
618
PIG
5:00PM
1
Sponsor-Universal
COX
619
PIG
5:00PM
1
Stack
Jessica
203
COW
5:00PM
8
Stankiewicz
Arielle
D212
DONNELLY
6:00PM
9
Stephens
Kathleen
610
PIG
5:00PM
1
Stephens
T
D318
DONNELLY
5:45PM
13
Stern
DG
A264
CAT
5:00PM
18
Steverson
Melodye
A104
BIRD
6:00PM
9
Stinedurf
LaMonte
501
GOAT
5:00PM
15
Strengholt
Morna
B256
DOG
3:30PM
2
Strengholt
Morna
B257
DOG
3:30PM
2
Sulaty
Cindy
254
COW
5:45PM
8
Sutphin
Dee
A155
BIRD
5:00PM
7
Tanuredjo
Thomas
B164
COW
3:30PM
2
Thomas
Lora
D208
DONNELLY
6:00PM
9
Thomas
Lora
D209
DONNELLY
6:00PM
9
Thompson
Nina
D214
DONNELLY
6:00PM
10
Tobolski
Marcus
213
COW
5:00PM
5A
Tobolski
Marcus
214
COW
5:00PM
5A
Truitt
Ashley
515
GOAT
5:00PM
10
Truitt
Ashley
516
GOAT
5:00PM
10
Trumbull
Nancy
509
GOAT
5:00PM
15
Trygar
Tim
A160
BIRD
5:00PM
7A
Valera Smith
Oralba
D255
DONNELLY
5:00PM
17
Van Atta
Chris
D317
DONNELLY
5:45PM
18
Varricchio
Kathy
A255
CAT
5:00PM
7
Vaudo
Jennifer
B255
DOG
3:30PM
2
Veazy
Becky
B264
DOG
6:00PM
1
Veazy
Becky
B265
DOG
6:00PM
1
Vela Charbonneau
Amanda
D315
DONNELLY
5:45PM
13
Vigoa
Miriam
D207
DONNELLY
6:00PM
10
Viruet
Graciano
360
CAT
6:00PM
8
Wall
Sandy Ken
A113
BIRD
6:00PM
7A
Warren
Stacey
614
PIG
5:00PM
1
Watson
Ruthy
205
COW
5:00PM
8
Weinrab
Barbara
451
DOG
5:45PM
4
Wells
Barbara
D254
DONNELLY
5:00PM
6
Weltmer
Ron
352
CAT
6:00PM
7
Werneth
Pam
D104
DONNELLY
6:00PM
9
Wessel
Kim
557
GOAT
5:45PM
18
Widmer
Richard
563
GOAT
5:45PM
20
Wilkinson
Lori
A253
CAT
5:00PM
7
Williams
Kim
458
DOG
5:45PM
8
Williams
Kim
459
DOG
5:45PM
8
Williams
Mike
607
PIG
5:00PM
3
Williams
Mike
608
PIG
5:00PM
3
Wisniewski
Lori
D213
DONNELLY
6:00PM
9
Wutzer
Maya
A258
CAT
5:00PM
19
Yancey
Sharon
B262
DOG
6:00PM
1
Yazidi
Abdel
211
COW
5:00PM
8
Yazidi
Abdel
212
COW
5:00PM
8
Young
Sharon
553
GOAT
5:45PM
15
Young
Leslie
D319
DONNELLY
5:45PM
13
Yuzzi
Steve
650
PIG
5:45PM
10
Zah
Eugen
A213
CAT
5:45PM
15
Zeidan
Alexia
A161
BIRD
5:00PM
12
Zirk
Marianne
A109
BIRD
6:00PM
14
Zirk
Marianne
A110
BIRD
6:00PM
14